Overview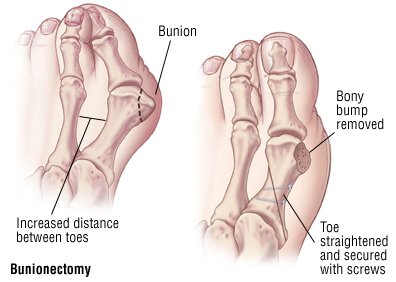 Bunions are the most common deformity that affects the big toe. A bunion is characterized by angling of the big toe towards the lesser toes, and a painful bump over the inside part of the base of the big toe. This prominence (an area called the medial eminence) is caused by angling inwards of the metatarsal bone, and is not an actual growth of bone.
Causes
Inflammatory joint diseases. Those who suffer from rheumatoid and psoriatic arthritis are at risk for bunions, although many times, those who suffer from bunions will mistakenly attribute the soreness in their feet to arthritis. Genetic and neuromuscular factors. Individuals with Down?s Syndrome are believed to be more prone to developing bunions; therefore, the gait and feet of such patients should be examined carefully and regularly so that any problems can be caught and treated early. Similarly, individuals of any age who have been diagnosed with Ehlers-Danlos or Marfan?s Syndrome, have also been shown to have a higher than average occurrence of bunions. Limb inequality. Individuals who have legs of unequal length often suffer from bunions on the longer limb due to the irregular mechanics of their walking or running gait.
Symptoms
The major symptom of bunions is a hard bump on the outside edge of the foot or at the base of the big toe. Redness, pain and swelling surrounding or at the MTP joint can also occur.
Diagnosis
Looking at the problem area on the foot is the best way to discover a bunion. If it has the shape characteristic of a bunion, this is the first hint of a problem. The doctor may also look at the shape of your leg, ankle, and foot while you are standing, and check the range of motion of your toe and joints by asking you to move your toes in different directions A closer examination with weight-bearing X-rays helps your doctor examine the actual bone structure at the joint and see how severe the problem is. A doctor may ask about the types of shoes you wear, sports or activities (e.g., ballet) you participate in, and whether or not you have had a recent injury. This information will help determine your treatment.
Non Surgical Treatment
In most cases the symptoms of bunions can be reduced or relieved without surgery. Reducing pressure on the bunion is the first step in reducing the pain associated with the condition. Wearing correctly fitting shoes is important in achieving this. A referral to a podiatrist may be made in order to assess the need for special orthotic devices, such as custom-made arch supports and shoe inserts (eg: metatarsal pad or bar). These can help to relieve tension on the base of the big toe and help prevent flat-footedness. Specific exercises and bunion pads available over-the-counter at pharmacies may also be of benefit. Anti-inflammatory medicines can help to ease pain in the short term. Steroid injections may be used to relieve severe pain. If a sufficient reduction in symptoms is not achieved by non-surgical treatment, then surgery may be recommended.
Surgical Treatment
If conservative treatment doesn't provide relief from your symptoms, you may need surgery. The goal of bunion surgery is to relieve discomfort by returning your toe to the correct position. There are a number of surgical procedures for bunions, and no one technique is best for every problem. Surgical procedures for bunions might involve removing the swollen tissue from around your big toe joint. Straightening your big toe by removing part of the bone. Realigning the long bone between the back part of your foot and your big toe, to straighten out the abnormal angle in your big toe joint. Joining the bones of your affected joint permanently. It's possible you may be able to walk on your foot immediately after a bunion procedure. However, full recovery can take weeks to months. To prevent a recurrence, you'll need to wear proper shoes after recovery. It's unlikely that you'll be able to wear narrower shoes after surgery. Surgery isn't recommended unless a bunion causes you frequent pain or interferes with your daily activities. Talk to your doctor about what you can expect after bunion surgery.
tag : Bunions
| HOME |